London
From LGBT Archive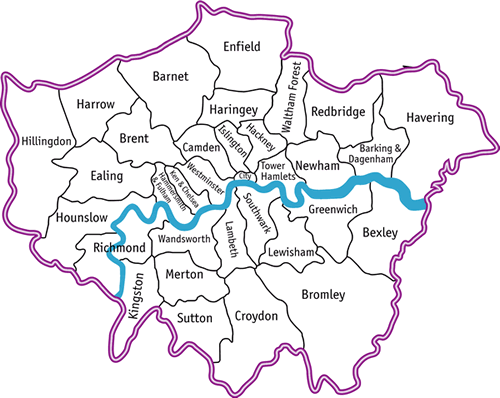 London
is the capital of
England
and of the
United Kingdom
.
Greater London, comprising 32 London Boroughs plus the City of London, has a population (2011) of 8,174,000.[1]
The London County Council (LCC] was in existence between 1889 and 1965, but covered only a part of the current Greater London area. The current Greater London area came into existence in 1965 when the Greater London Council (GLC) was created together with the boroughs. The GLC was abolished in 1986. The current Greater London Authority (GLA), comprising the Mayor of London and London Assembly, was created in 2000.
London Councils is an organisation co-ordinating the work of the various London Boroughs for certain purposes.
London (ie Greater London) is one of the nine official English Regions.
LGBT people in London
There were a number of London CHE Groups in the 1970s, several of which later changed their names to reflect different areas of London.
A survey published in 1996 found that the vast majority of gay men in London had not grown up in London but had moved there.[2]
Europride was held in London in 1992 and 2006, and again in 2012, when it coincided with WorldPride.
The LGBT London website was the latest in a series of ventures to bring LGBT groups together across the capital.[3]
Pink London was an online guide to gay venues and events in London.
London Boroughs
References
↑ http://www.ons.gov.uk/ons/dcp171778_270487.pdf "T 08: 2011 Census — Population and Household Estimates for England and Wales, March 2011". Office for National Statistics. 16 July 2012
↑ How far will you go? - A Survey of London Gay Men's Migration and Mobility. Peter Kelley, Roger Peabody and Peter Scott, for ¿Queery? the research arm of Gay Men Fighting AIDS, 1996. ISBN 0 9529964 0 5
↑ http://www.lgbtlondon.com/info/little-history-of-lgbt-co-operation-london "A little history of LGBT co-operation in London", by Ross Burgess, LGBT London