City of London
From LGBT Archive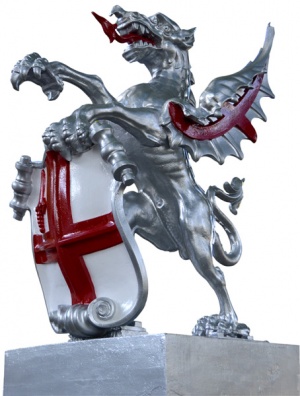 The City of London, often referred to simply as the City, is a city and cermionial county in the centre of London. At one the City comprised most of the built-up area of London, and it retains institutions and a peculiar form of local government dating from the middle ages. Today however it is the traditional business/financial centre (a new financial district has been built in Canary Wharf), referred to as the "square mile", with only a small resident population. The square mile is marked out by statues of griffins, the symbol of the City of London. It is generally listed as one of the London Boroughs, although technically it is not a London Borough.
The City has its own police service, quite separate from the Metroplitan Police who police the Greater London area.
City landmarks include St Paul's Cathedral, and many other churches, many of them designed by Sir Christopher Wren after the Great Fire of 1666, the Old Bailey and many modern office buildings.
The City of London Corporation is headed by the Lord Mayor of London, not to be confused with the Mayor of London. The official home of the Lord Mayor is Walbrook Hall, commonly known as 'Mansion House'. It contains one of the best UK collections of Dutch art. The main political building is the Guild Hall, and many individual guilds are still in existence, many with thir own halls. Each year there is a Lord Mayor's Parade through the City, promoting city firms, institutes and organisations. The City of London Corporation own all the bridges that cross the Thames in London.
The City archives are now held in the London Metropolitan Archives, which has annual LGBT days; it is now outside the City, in Clerkenwell.
The City has historically owned a number of open spaces well outside its area, including Hampstead Heath.
What today's visitors know as 'London' are the two cities of the "City of London" and the "City of Westminster". As London has grown it has also swallowed up many smaller neighboring towns and villages, this has become known as "Greater London".
LGBT History
There was once a City of London CHE Group.
There are few LGBT facilities within the City, but the church of St Botolphs Aldgate is the meeting place for 3F. A Taste of Honey is listed as a lesbian club in Aldermanbury.
The Cityof London Police has own sexual orientation diversity strand, Chorus.
External links
http://www.lgbtlondon.com/borough/city-of-london Borough Profile on LGBT London.