London Raiders
From LGBT Archive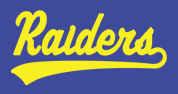 The London Raiders
(formerly known as
The Rainbow Raiders
) is reputably the largest softball club in Europe, if not the world. It was started by
Jonathan Harbourne
shortly after he arrived in London in 1989 and is an LGBT sports club.
About
London Raiders Softball Club is a gay softball club which aims to offer a meaningful softball experience through play and training at skill levels that match players' abilities in a fun, safe and social environment that is accepting of sexual diversity.
Joining
Raiders has seven different league teams, including one in the top division of the Greater London league (GLSML). If you would like to play with us, get in touch with our Membership Managers by using the contact form on our website.
Tournament Success
Raiders won top prize in the B division at the Pioneers Tournament in Canterbury on 24-25 June. This is one of the biggest tournaments in the country and a major achievement for the club! Special congrats to Kelvin Terblanche, team MVP!
Development Squad
Training sessions are every Monday at 7PM at our usual spot on Wandsworth Common.
History
1989-1992
Jonathan Harbourne moved to London from Cardiff in 1989 to work for a company called Chroma Image Workshop. He played softball once with his colleagues on Clapham Common in that year, and having never played teams sports in school due to discrimination, thought this would be a good alternative that the 'pubbing and clubbing' of the gay scene. He bought a ball and a bat and encouraged his friends to play a few times in Hyde Park. This continued to the summer of 1991 when he moved to Harrogate for a year, before doing so, marking his departure by 23 of the softballers going to Brighton for the weekend. When he returned to London, in the spring of 1992, Jonathan designed and printed some flyers advertising a weekly gay softball games in Hyde Park. The flyers were distributed around the gay venues of Soho and Covent Garden, including The Village, Compton's Café (now Ballan's Café) and The Edge. On the first Sunday, it was raining, no-one turned up. Undeterred, Jonathan refreshed the flyers, the second week, it was still raining, two people turned up and they went down the pub. But by the end of that first summer over 200 people re turning out each week to watch or play.
1993 - the gay league
In 1993 Jonathan encouraged the new gay venues of the burgeoning West End gay scene to form teams, and play each other in a gay league. This proved very successful, and teams from the following gay venues played that year: Comptons (pub), The Village, The Edge, Centrepoint Gym, First Out Café, and Compton's Café. That year a lot of fun was had - Comptons brought crates of beer along to the match and Lady Compton arrived in drag, getting up on a soap box at Speakers' Corner to give a pro-gay rant. First Out sponsored a tequila slammer match, runs having to down a double tequila slammer for every base they got to. Jonathan and Malcolm came second, getting around 10 bases, I really can't remember who won, achieving 11 bases, but we all rolled around laughing on the grass for a long time. The league that year was won by Centrepoint Gym (an all-male team that had been allowed to compete against mixed teams!).
The gay league was hard to sustain, the following year the venues were not up for fielding teams, most of the staff of Compton's Cafe worked all night (the cafe was open 24 hours on the weekend), so players had no sleep before arriving for games, and there were a few accidents. But a core of individual players remained, including Jimmy Somerville, Malcolm and Amy Lamé (from First Out) and Jay Eff. on tap music tour of the States, accompanied by friend Malcolm, Jimmy Somerville (who worked out at Centrepoint Gym with Jonathan) bought the softball club's first proper equipment: bats, balls, bases and gloves. For the first time the club had a full set of gloves which prevented broken fingers. Malcolm was asked to carry it back. There was no official committee at this stage, people were asked to pay £1 per game as a contribution, and Jonathan lugged the equipment from his flat in Marylebone to Hyde Park every Sunday afternoon during the summer months. They all ended up in the City of Quebec pub afterwards.
1994 - the Publishing League
In 1994 the team was still going, and players wanted to join a proper league. Jonathan, by this time, was working at Boyz magazine and the Pink Paper, so signed them up to the London Publishing League. To join, they needed a name, many names had been suggested by members, but crossing the park on the way to the pub where the Publishing League meeting was taking place, Perry and Jonathan had still not decided upon a name. Suddenly it occurred to one of them, that the combination of two of the suggestions hit the spot, walking into the pub minutes later, they declared themselves to be "The Rainbow Raiders".
Playing in a league, the Raiders soon became aware that they were not very good. It was one thing to be lesbian and gay in the 90s, but another thing to be lesbian and gay and losers. One regular was an older American man called Michael Michaelian, because he was American, the other members thought he must know how to play ball, so they asked him to be the official coach. From that day on they never lost a game - and came second in the finals against the leading Finsbury Park team (at that level). In the stands at this finals game, Jonathan was struck by the crowd (from other teams) cheering for the Raiders for the first time. Up until now the 'gay team' had been a figure of fun, but now the underdog was no longer being mocked, but genuinely supported by all the other teams in the league. The Raiders didn't win, but for Jonathan there had been a dramatic turning point in how pele viewed gay sports teams - they could be as good as the rest, if not better.
1995-1996
In 1995 softball was gaining more experience and knowledge as a sport, it was becoming more organised, e.g. Safety bases were introduced for the first time, and training was given by the British Softball Federation for people to train as umpires (or 'blues'). Jonathan trained and became an umpire that year, umpiring matches at a tournament in Chiswick in which the Raiders played. Other umpires did not know Jonathan was part of the Raiders, so may homophobic remarks about the Raiders freely. Jonathan had tried to encourage other people, who had now been coming for seval years, to take on the leadership of the Raiders, and in 1996 after being diagnosed with HIV, quit the team. The Raider's coach, who they had assumed to be a baseball expert and had won them many games, turned out to have known nothing about softball, but rising to the challenge had ordered, watched and read every book and video cassette of softball coaching that he ordered from the States. He was in London working as a screen writing, and wrote a screen play of the Raiders called Shagging Flies, which was considered for Hollywood production by the producer of Rocky. Michaelian had seen some success in previous years writing TV shows such as Star Trek, Dukes of Hazard, Hawaii 5-0 and Fantasy Island.
External links