Victim
From LGBT Archive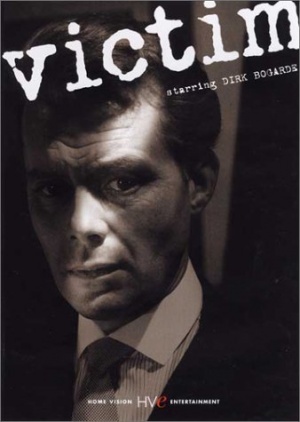 Victim
was a film released in 1961, directed by Basil Dearden and starring
Dirk Bogarde
as a bisexual barrister, Melville Farr, who helps to track down a gang of blackmailers, and agrees to give evidence against them while knowing the publicity will destroy his career. Dirk Bogarde took a keen interest in the writing of the script; it was considered a very bold step for him to appear in such a controversial film, even though his own sexuality was never made public.
The film has been credited with helping to prepare public opinion for the decriminalisation of homosexual acts in 1967.[1]
It was the first English-language film to use the word "homosexual".
Listen to Peter Scott-Presland talking about the film, as part of the Shropshire Rainbow Film Festival, October 2015.
References
↑

Steve Greenfield, Guy Osborn and Peter Robson, "Film and the law", Routledge, 2001. isbn=978-1-85941-639-6 page 118