Ted Wickham
From LGBT Archive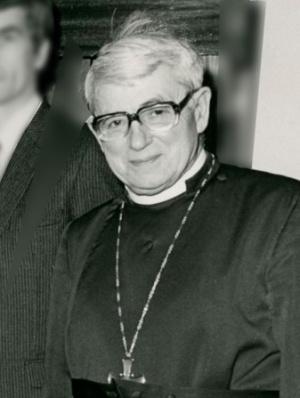 Ted Wickham
(Edward Ralph Wickham, 1911–1994) was a long serving Bishop of
Middleton
.
[1]
Wickham left school at 15 and worked in a factory. He was unemployed for a time, and claimed to be the only Church of England bishop to have been on the dole, but taught himself Latin, Greek and Hebrew, obtained a London University BD degree[2] and was was ordained in 1939.
His first post was as chaplain at the Royal Ordnance factory at Swynnerton, Staffordshire, which at the time (during the Second World War) was the largest ordnance factory in the country. His subsequent experience was largely based in industrial areas[3] and included a nine-year stint as a canon residentiary at Sheffield Cathedral.[4] From 1959 until his retirement in 1982 he was Bishop of Middleton, a suffragan (or assistant) bishop post within the Church of England diocese of Manchester. A noted ecumenicist he wrote widely on the churches' role in a changing world. His published works include Church and People in an Industrial City.
"Wickham was one of the few working-class boys to go into the church, and the even fewer who made it up the hierarchy to Bishop. Ray Gosling described him as a 'rough, tough East End cockney'."[5]
LGBT connection
Ted Wickham facilitated the setting up of the North-Western Homosexual Law Reform Committee, which eventually became the Campaign for Homosexual Equality, and arranged for its inaugural meeting to be held in Church House, Manchester.[6]
References