Radclyffe Hall
From LGBT Archive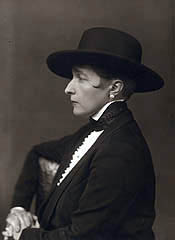 Radclyffe Hall
(born Marguerite Radclyffe-Hall on 12 August 1880 – 7 October 1943) was an English poet and author, best known for the lesbian classic
The Well of Loneliness
.
She was born in Bournemouth and educated at King's College London, and then in Germany. During the 1930s she lived in Rye, East Sussex, with her lover, Lady Una Troubridge.
She is buried in Highgate Cemetery.
Literary references
The Girls of Radcliff Hall was the title of a novel by Lord Berners under the pseudonym "Adela Quebec".
Nancy Spain wrote a number of books set in a fictional girls school called "Radcliff Hall".
This article is a stub. You can help the UK LGBT History Project by expanding it.