Percy Jocelyn
From LGBT Archive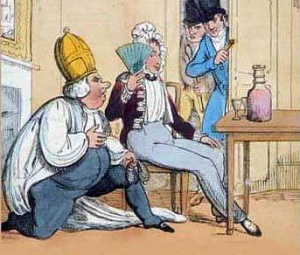 Hon
Percy Jocelyn
(1764–1843), son of the Earl of Roden and "the most idle of all reverend idlers"
[1]
was
Anglican
Bishop of
Clogher
(
County Tyrone
, Northern Ireland) from 1820 to 1822.
In 1811, while Bishop of Ferns and Leighlin (now in the Irish Republic) he sued his coachman, James Byrne, for libel after Byrne accused him of "taking indecent familiarities" with him.
In 1822 Jocelyn was caught in a compromising position (literally with his trousers down) with a Grenadier Guardsman, John Moverley, in the back room of the White Lion, Westminster. He skipped bail and moved to Scotland where he worked as a butler under an assumed name. He was deposed as bishop for "the crimes of immorality, incontinence, Sodomitical practices, habits, and propensities, and neglect of his spiritual, judicial, and ministerial duties".
References
↑ http://revpatrickcomerford.blogspot.co.uk/2010/02/hon-percy-jocelyn-1764-1843-bishop-of.html Patrick Comerford blog