Out of the Shadows (book)
From LGBT Archive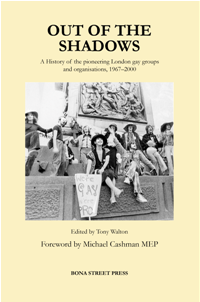 Out of the Shadows
is a history of the pioneering London gay groups and organisations, 1967–2000, edited by
Tony Walton
, with a foreword by
Michael Cashman MEP
. It is published by Bona Street Press.
ISBN 978-0-9566091-0-6
. 250 pages, 74 illustrations.
The book was formally launched at the Annual Conference of the Campaign for Homosexual Equality (CHE), 4 July 2010. CHE held a reunion for everyone concerned with the book in November 2010.
In the months following publication, readers pointed out some errors and omissions. These were listed on the website, and incorporated in the 2011 reprint.
Contents
There are separate chapters for particular groups around London and particular Boroughs. The chapters are arranged in chronological order, as follows:
External links
Official website: http://www.slago.org.uk/oots.htm
List of changes in the reprint: http://www.slago.org.uk/oots-changes.htm