Nighthawks
From LGBT Archive
Nighthawks (1978) is a film by Ron Peck and Paul Hallam. It depicts the life of a gay man who teaches in a London comprehensive school by day and cruises gay bars at night. Jim's various pickups never seem to convert into long-term relationships. Important scenes include a class in which pupils ask him about his sexuality and where he frankly replies, and a conversation with a female colleague, who gets him to explain about gay life and cruising.
"Nighthawks was Britain's first explicitly gay film that chronicled life for a single gay man in London at that time. Not only an important film in terms of its style and content, it is an authentic picture of London before Thatcherism, and of the gay scene before HIV/AIDS and after Stonewall. Previously, gay characters' sexuality was the origin of a problem, as in Victim (Basil Dearden, 1961), or treated as a peripheral matter, as in Tony Richardson's A Taste of Honey (1961) or Robert Aldrich's The Killing of Sister George (1968). Nighthawks made a clean break from previously camp representations of gay men on film. Though controversial upon its release, for its frank nudity and use of actual locations frequented by gay men, the film opened at the 1978 Edinburgh Film Festival and had some commercial success. "[1]
A subsequent film called Strip Jack Naked was released in 1991. Sub titled Nighthawks II, this film used much of the unused footage shot for Nighthawks. It is a documentary style film explaining how Nighthawks was cut and edited, as well as explaining Ron Peck's personal journey from childhood.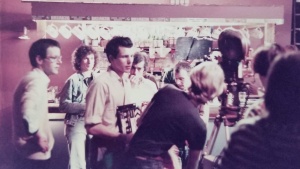 The club scenes in Nighthawks were shot in a studio in Shelton Street, Covent Garden, London. Some scenes were shot in The Salisbury pub and also the Prince Albert [2].
Ron Peck died in November 2022 [3].
References
This article is a stub. You can help the UK LGBT History Project by expanding it.
↑ http://worldcinemadirectory.co.uk/component/film/?id=1348 World Cinema Directory.
↑ Ron Peck archives in the Bishopsgate Institute. It is unclear if any of the film in the Prince Albert (now called Central Station) was used in the final version of the film.