Nancy Spain
From LGBT Archive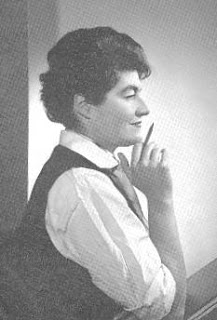 Nancy Spain
(
Nancy Brooker Spain
, 1917–1964) was a broadcaster and journalist.
Early life
Nancy Spain was born in Jesmond, Newcastle upon Tyne.[1] She went to Roedean School from 1913 to 1935, where she began wearing "mannish" clothes, and developed the speaking voice which stood her in such good stead in her eventual media career. She played lacrosse for Northumberland and Durham, and hockey for the North of England, as well as playing tennis and cricket. She also acted on BBC radio, where she took over the star parts vacated by Esther McCracken. She was a sports reporter for the Newcastle Journal, and had a love affair with local sportwoman Winifrid Sargeant. During the war, Nancy served in the WRNS on Tyneside, a period covered in her book Thank you, Nelson (1945).
Post-war career
After the war, she published several books, including a series of detective novels set at a girls school, "Radcliff Hall" (based on Rodean, but clearly intended to be reminiscent of the lesbian author Radclyffe Hall)[2]. She became a star columnist for the Daily Express, She and the News of the World in the 1950s and 1960s and made many radio broadcasts, particularly on Woman's Hour and My Word! She later appeared as a panellist on BBC TV's record review programme Juke Box Jury and the panel game What's My Line?. In 1962 she performed "The Blaydon Races", the Victorian Tyneside song, at London's Marquee Club with Alexis Korner and Blues Incorporated. A recording of the latter was published on the album R&B from the Marquee.
Spain's scatty style of column-writing caused the Daily Express to be sued successfully for libel - twice - by Evelyn Waugh.[3]
As well as her books of memoirs, including Why I'm Not a Millionaire (1956), Nancy wrote a biography in 1948 of her relative Mrs Beeton, and a series of detective novels.[4]
Private life
Often in the news, and tempted to marry to seem "respectable" - her name was linked with that of Gilbert Harding - she lived openly with the editor of She, Joan Werner Laurie (Jonny), and was a friend of the famous, including Noël Coward and Marlene Dietrich. She and Joan were regulars at the Gateways club in Chelsea, and were widely known to be lesbians.[5] Nancy and Joan lived in an extended household with the rally driver Sheila van Damm, Joan's son Nicholas (born 1946), and Nancy's son Thomas (born in 1952 after an affair with Philip Youngman Carter, husband of Margery Allingham; for the sake of propriety, Thomas was described as Joan's youngest son).
She died, with Joan and four others, when the Piper Apache aeroplane crashed near Aintree racecourse on her way to commentate on the 1964 Grand National. She was cremated with Joan at Golders Green Crematorium, London, and her ashes were put in the family grave in Horsley, Northumberland.
She left one son - publicly unacknowledged during her lifetime - Tom Carter, but her will left her estate to Joan (who was 3 years younger, and so assumed for legal purposes to die after her). Joan's son Nicolas inherited the joint estates, and Nancy's son inherited nothing. Noël Coward summed up in his diary: "It is cruel that all that gaiety, intelligence and vitality should be snuffed out when so many bores and horrors are left living."
Bibliography
Thank You, Nelson: London: Hutchinson: 1945.
Mrs Beeton and Her Husband: London: Collins: 1948.
Teach Tennant: The Story of Eleanor Tennant, the Greatest Tennis Coach in the World: London: W.Laurie: 1953.
Why I'm Not A Millionaire: London: Hutchinson: 1956.
A Funny Thing Happened to the Way: London: Quality Book Company: 1964.
The Nancy Spain All Colour Cookery Book: London: World Distributors: 1967.
Further reading
References
Based on the Wikipedia article of the same name.