Jeremy Thorpe
From LGBT Archive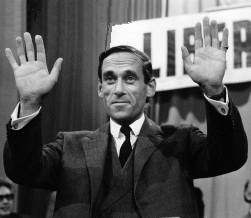 Jeremy Thorpe
(John Jeremy Thorpe, 1929–2014) was a Liberal politician who was leader of the
Liberal Party
from 1967 to 1976 and MP for North
Devon
from 1959 to 1979.
His political career was severely damaged when an acquaintance, Norman Scott, claimed to have had a love affair with Thorpe in the early 1960s, at a time when homosexual acts were illegal in Britain. The scandal forced Thorpe to resign as Liberal Party leader in 1976. He denied the claims of a homosexual affair and was charged with conspiring to murder Scott, though he was acquitted of these charges in 1979, shortly after losing his seat in the general election.
Early life
Thorpe was the son and grandson of of Conservative MPs. He was educated at Eton College and Trinity College, Oxford, where he studied Law. He was very politically and socially active at Oxford, becoming President of the Liberal Club and the Law Society and finally President of the Oxford Union in 1951. He was called to the bar in 1954, whilst working as a TV interviewer.
Member of Parliament
Thorpe was adopted as Liberal candidate for North Devon (then Conservative-held) in 1952. In the 1955 general election he halved the Conservative majority. In the 1959 election, he won narrowly. He remained MP for North Devon for the next 20 years.
Liberal Party leader
In 1965, he became Liberal Party Treasurer and, following Jo Grimond's resignation as leader in 1967, he won the resulting party leadership election with the support of 6 of the 12 Liberal MPs. Thorpe's style, in contrast to Grimond's intellectualism, was youthful and dynamic, and was sometimes ridiculed as too gimmicky, as when, for example, he called for Rhodesia to be bombed after it declared itself independent in 1965. He was, however, a staunch defender of human rights, as exemplified by his prominent role in the Anti-Apartheid Movement. He was also a key figure in the campaign for Britain to join the European Community. A colourful character, Thorpe was renowned for his assortment of Edwardian suits, silk waistcoats and trilby hats, as well as being a noted raconteur and impressionist.
His party leadership was not immediately successful. The 1970 general election was calamitous for the Liberals; they fell from 13 seats to 6 (winning three, including Thorpe's, by tiny majorities). But between 1972 and 1974, Thorpe led the Liberals to an impressive string of by-election victories, at Rochdale, Sutton and Cheam, Ripon, the Isle of Ely, and Berwick-upon-Tweed. In the February 1974 general election, the Liberals gained 19.3% of the vote and won 14 seats. During the campaign, some opinion polls at times even placed the party as high as 30%, compared to the 8.5% the Liberals got in the 1966 General Election, before Thorpe's election as leader.
The February 1974 election resulted in a "hung parliament" with no party having a majority. Prime Minister Edward Heath proposed a coalition government with the Liberals, with Thorpe being offered the post of Home Secretary. Thorpe asked for significant commitments toward electoral reform, but Heath could not give them. Also, the Conservative-Liberal coalition would still be seven seats short of a majority, and the government would probably not have long survived. The Liberal Party, and many who had voted for it, were not enthusiastic about keeping Heath in office, and Thorpe declined the offer, fearing a coalition with the Conservatives would split his party.[1] On 4 March the talks to form a coalition collapsed, paving the way for Harold Wilson and Labour to return to power as a minority government, after four years in opposition. Another election was held in October 1974 which confirmed Labour in office, and reduced the Liberal representation to 13.
Homosexuality scandal — "Rinkagate"
Persistent rumours about Thorpe's sexuality dogged his political career. Norman Scott, a former male model, met Thorpe in 1961 while working as a stable lad. He later claimed that he and Thorpe had had a homosexual relationship between 1961 and 1963, when homosexual acts were illegal in Britain. Scott's airing of these claims led to an inquiry within the Liberal Party in 1971, which exonerated Thorpe. Scott, however, continued to make the allegations, which were later published in great detail in a book called Rinkagate—The Rise and Fall of Jeremy Thorpe by Simon Freeman and Barrie Penrose (Bloomsbury 1996).
In October 1975, Andrew "Gino" Newton, a former airline pilot, collected Norman Scott from where he was living in Combe Martin, North Devon, and drove him to Exmoor; Newton drove Scott onto Porlock Hill, where they stopped and got out of the car. Newton then shot Scott's dog Rinka, a Great Dane, before turning the gun on Scott. When the case came before Exeter Crown court, in March 1976, Scott said that the gun jammed and that Newton then drove off, leaving him alone beside the dead dog. Newton always maintained that his intention was only to frighten Scott, who, he alleged, possessed incriminating photographs of Newton. Newton was convicted for the illegal possession of a firearm and an intent to endanger life.
During his court appearance, Scott repeated his claims of a relationship with Thorpe, and alleged that Thorpe had threatened to kill him if he spoke about their affair. Scott also sold letters to the press which he claimed to be love letters from Thorpe. One of these included the memorable line "Bunnies can and will go to France", which supposedly showed Thorpe using his "pet-name" for Scott in connection with a promise to find Scott a well-paid job in France.
The scandal forced Thorpe to resign as Liberal Party leader on 9 May 1976. He was replaced temporarily by his predecessor Jo Grimond and then permanently by David Steel.
Andrew Newton was released from prison in April 1977, and then revived the scandal by claiming that he had been hired to kill Norman Scott. On 4 August 1978, Thorpe was accused along with David Holmes (deputy Treasurer of the Liberal Party), George Deakin (a night club owner) and businessman John Le Mesurier (neither the actor nor the athletics coach) of conspiracy to murder. Thorpe was also separately accused of inciting Holmes to murder Scott.
The trial was scheduled to take place a week before the general election of 1979, but Thorpe obtained a fortnight's delay to fight the election. However, Thorpe was defeated in his constituency of North Devon.
Trial
Thorpe and the three other accused were put on trial at Number One Court at the Old Bailey on 8 May 1979, a week after Thorpe had lost his seat. One of the chief prosecution witnesses was former Liberal MP and failed businessman Peter Bessell, who claimed to have been present while the murder plot was discussed within the Liberal Party. According to Bessell, poison had been rejected as a method of killing Scott because "it would raise too many questions if he fell dead off a barstool". One alleged plan had been to shoot Scott in Cornwall and dispose of the body down a disused mine shaft.[2]
Bessell agreed to appear as a witness in exchange for immunity from prosecution. His credibility was damaged, however, because he had sold his story to The Sunday Telegraph for a fee that would double from £25,000 to £50,000 if the prosecution was successful. Thorpe did not testify [3], but his counsel, led by George Carman QC, argued that, although he and Scott had been friends, there had been no sexual relationship. Carman claimed that Scott had sought to blackmail Thorpe and that, although Thorpe and his friends had discussed "frightening" Scott into silence, they had never conspired to kill him.
Mr Justice Cantley's summing-up was widely criticised for showing a nakedly pro-establishment bias,[4] and it made headlines when he described Scott as "a crook, an accomplished liar ... a fraud". In spite of the judge's direction, the jury was at first split 6–6, but, after 15 hours of deliberation, it finally reached a verdict of Not Guilty. The four defendants were all acquitted on 22 June 1979.
Later life
Not long after the end of the trial Thorpe was found to have Parkinson's Disease, and retired from public life. However in 1997 he visited the Liberal Democrat party conference and was given a standing ovation by party members. He attended the funeral of Roy Jenkins in 2003.
In 1999 Thorpe published his memoirs, entitled In My Own Time, in which he described key episodes in his political life. He did not, however, shed any further light on the Norman Scott affair.
Thorpe never made any public statements regarding his sexual orientation.
Possible involvement of Jack Straw
In 2002 a tape recording surfaced of Harold Wilson discussing the scandal and saying: "Look, I saw Jack Straw, he's very worried if he were mentioned in this context, he thinks he'll be finished." This resulted in an inquiry by the BBC programme Newsnight into Jack Straw's involvement in the Scott affair.[5] According to the diary of Barbara Castle, Secretary of State for Social Security, Wilson had asked her to examine Norman Scott's security file to see if it contained any indications that he was working as part of a conspiracy against Thorpe. Straw - at that time working as a political advisor for Castle - informed her that when he went to examine Scott's file, it was missing.
The journalist Barrie Penrose has alleged that Straw subsequently leaked information from the file to the media. Straw remained silent on that matter, but denied the accusation by Joe Haines that Wilson asked him to read the files for information that could be used to smear Thorpe. At the time, the general view, promoted in particular by Private Eye, was that Wilson was using his position and influence to help and protect Thorpe and not to smear him.
In a BBC2 documentary on 16 March 2006, Penrose revealed that he pursued or stumbled on the murder allegations in the course of following leads from Harold Wilson, who wanted to prompt an investigation into the role of security services in destabilising his government. The documentary suggested that Wilson's original perception and intention were to help rather than undermine Thorpe, and repeated an unsupported claim that he was also an intended victim of a right-wing plot by a rogue element in MI5.[6]
Personal life
Thorpe was married to interior decorator Caroline Allpass in May 1968. Their son Rupert was born in 1969. Caroline Thorpe was killed in a car crash in June 1970. In 1973 Thorpe married Marion Stein, a distinguished former concert pianist and the former wife of the Earl of Harewood.
Further reading
Peter Bessell, Cover-Up: The Jeremy Thorpe Affair (Simons Books, 1980) - privately printed and limited to 2,000 copies
Lewis Chester, Magnus Linklater and David May, Jeremy Thorpe: A Secret Life (Fontana, 1979) - mostly written before the trial on the assumption of a guilty verdict, and hastily rewritten under the supervision of libel lawyers
Roger Courtier and Barrie Penrose, The Pencourt Files (HarperCollins, 1978)
Simon Freeman and Barrie Penrose, Rinkagate: The Rise and Fall of Jeremy Thorpe (Bloomsbury, 1996) - probably the most comprehensive accumulation of sources
Matthew Parris, Great Parliamentary Scandals (Robson Books, 1995)
Jeremy Thorpe, In My Own Time (Politico's, 1999, ISBN 90230 121 8)
Auberon Waugh, The Last Word: An Eye-witness Account of the Thorpe Trial (Michael Joseph, 1980)
Julian Glover, entry in The Dictionary of Liberal Biography (Politico's, 1998)
Dominic Carman, No Ordinary Man: A Life of George Carman (Hodder & Stoughton, 2002) - includes analysis of trial and aftermath.
John Preston, A Very English Scandal (Viking, 2016)- adapted into a BBC TV series starring Hugh Grant and Ben Wishaw broadcast in 2018.
References