Humphry Berkeley
From LGBT Archive
Humphry Berkeley
(1926–1994) was a Conservative (later Labour and SDP) politician, who proposed a bill to legalise male homosexuality in 1966.
He was educated at Malvern College and Pembroke College, Cambridge. While at Cambridge he wrote a number of letters to public figure pretending to be "H Rochester Sneath", headmaster of the non-existent Selhurst School in Sussex. The hoax was discovered, causing him to be excluded from the university for two years. The letters were published in 1974 under the title The Life and Death of Rochester Sneath.
In 1959 Berkeley was elected Conservative MP for Lancaster. In 1965 he introduced a bill to legalise homosexual relations between men, along the lines recommended in the Wolfenden Report. The bill passed its second reading in 1966 by 164 votes to 107 on 11 February 1966,[1] but was lost when parliament was dissolved. Berkeley lost his seat at the ensuing general election, and ascribed his defeat to the unpopularity of the bill [2].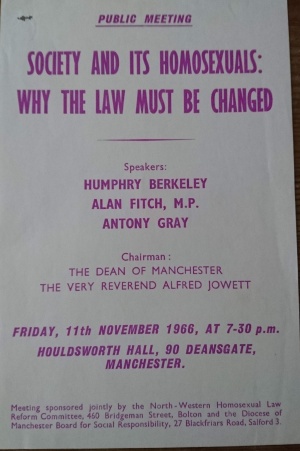 He left the Conservative Party and joined the Labour Party in 1970, standing as their candidate in North Fylde in the October 1974 General Election. He joined the SDP in 1981. In 1987 he was their candidate in Southend East.
References
↑ http://hansard.millbanksystems.com/commons/1966/feb/11/sexual-offences-bill#S5CV0724P0_19660211_HOC_123 Report of Berkeley's speech and the vote.
↑

The winning Labour candidate, Stanley Henig, made a point of getting married during the Election campaign. The swing to Labour in the seat was 6.1%. The average swing across the country from Conservative to Labour at the Election was 3 %. Berkeley would have retained his seat on a 3% swing to Labour in Lancaster. The Times Guide to the House of Commons 1966