Hampstead
From LGBT Archive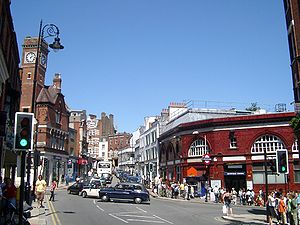 Hampstead
is a district in North
London
, with the
London Borough of Camden
. There was a separate Metropolitan Borough of Hampstead from 1899 to 1965.
Hampstead Village, the picturesque area on the hillside below Hampstead Heath, is said to have more millionaires within its boundaries than any other area of the United Kingdom.[1]
LGBT history
Sigmund Freud lived in Hampstead from 1938 to his death the following year.
The King William IV is said to be London's oldest gay bar.[2]
The Hampstead and Kilburn CHE Group was founded in May 1972.
See also
References
↑ http://www.telegraph.co.uk/property/main.jhtml?xml=/property/2004/05/08/phamp08.xml David Wade, "Whatever happened to Hampstead Man?" Telegraph.co.uk, 8 May 2004