Georgina Somerset
From LGBT Archive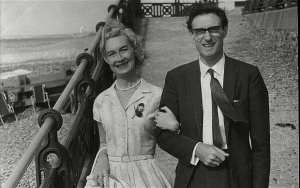 Georgina Somerset
(Georgina Carol Somerset, 1923–2013, formerly
George Edwin Turtle
) was a dentist and former naval officer who lived for much of her life as male.
[1]
George Turtle was born in Purley (then in Surrey, now part of the London Borough of Croydon) with ambiguous genitalia, but was raised as a man. He trained as a dentist, and served in that capacity in the Royal Navy from 1944. On leaving the Navy in 1948 he worked as a dentist in Croydon and later in Hove.[2]
In his mid-30s George started living as a woman, but reverted to the male role for a while. She later had hormone treatment and corrective surgery. In 1960 she had her birth certificate changed to female. In 1962 she got married in church to Christopher Somerset.[3]
She has written that sex change surgery should only be for intersex people, not for transsexuals.[4]
References