George Lucas
From LGBT Archive
George Lucas (born George Quirke) (1926–2014) was a gay man who worked in the Civil Service. He documented his life in a series of detailed personal diaries which he bequeathed to journalist Hugo Greenhalgh. When Greenhalgh started to examine the diaries he uncovered remarkable accounts of a man who recorded in some detail his use of male prostitutes in London, and other aspects of gay life. Lucas took a great risk in keeping the diaries as some of the entries incriminated him in matters which were criminal offences before 1967. If the police had got hold of the diaries a number of other men may well have been arrested and prosecuted. Lucas did actually destroy some diary entries to protect others [1]. The diaries are now being published on a Facebook page for Mr Lucas which is updated by Greenhalgh [2].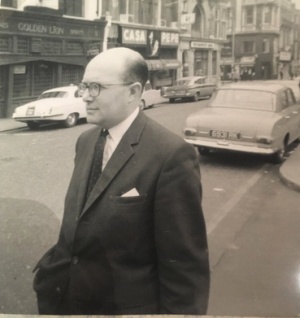 George Leo John Quirke was born 16 June 1926 and grew up in Chadwell Heath, Essex. He attended West Ham Grammar School (now known as St Bonaventure's ) in Forest Gate. He suffered tormenting bullying at school and refers in his diaries to 1937-39 as years of pain and fear [3]. Evacuated on 1 Sept 1939, initially to Trimley near Felixstowe and then to Clacton.
In 1941 his 'interest in homosexual activities (was) beginning' [4]. He served three years four months in The Royal Army Pay Corps leaving in January 1948. He then went to work in the War Office before rejoining the army as a commissioned officer in 1950 [5]. In October 1950 he was arrested in Germany for an indecent assault on a German young man [6]. He was court marshalled and while waiting for his appeal against sentence of six months imprisonment he was placed under close arrest. Fearing prison he was slightly relieved to be 'simply dismissed' in January 1951. He then had to be reinterviewed to return to the civil service and he was worried they might not accept him back after his 'disgrace' in Germany. However he was readmitted and posted to the Department of Trade where he spent the remainder of his working life. His latter years were lived in Clapham Park. He died 28 December 2014. His last address was 24a Mandalay Road Clapham London SW4 9EE. [7].
An unremarkable man in many ways but the legacy of his diaries now make his contribution to LGBT history important. He frequented the Piccadilly Circus area and utilised and befriended a number of rent boys.
On February 6th 2020 Mark Gatiss read extracts from Mr Lucas's diaries to a packed audience at the Bishopsgate Institute as part of LGBT History Month.

Here is one example of his description of 1950 in his diary entry for Jan 1st 1968;I look back 18 years to 1950. When I was 24, the London scene was not changed much; places, buildings, familiar to the homosexual world of 1950 had been familiar for a long time.And how many there were - the public rendezvous at Marble Arch and Piccadilly Circus and Trafalgar Square, the numerous gay bars: the Standard in Piccadilly Circus, the celebrated Fitzroy in Rathbone Place, the Bunch of Grapes on the south side of the Strand, with its stone canopy carved in form of a cornucopia over the door, Rainbow Corner by the Monico in Shaftesbury Avenue… and, of course, the lavatories of the "Grand Tour"; starting with Falconberg Court and ending at York Place [8].
References