George Carey
From LGBT Archive
George Carey
(born 1935) was
Archbishop of Canterbury
from 1991 to 2002.
He was brought up in the East End and studied for ordination after national service.
In 1999 a newspaper profile asked "Is he the worst Archbishop we have ever had?"[1] – before concluding that he was not, but that he was "without question the worst Archbishop imaginable for a media age".
Statements on gay rights
Carey opposed homosexual relationships among members of the clergy, although he admits to having consecrated two bishops whom he suspected of having same-sex partners. He presided over the Lambeth Conference of 1998 and actively supported the conference's resolution which uncompromisingly rejected all homosexual practice as "incompatible with scripture".
Carey was criticised for his lack of neutrality on the issue of homosexuality by those attempting to reach a compromise position which had been presented to the conference by a working group of bishops on human sexuality. He also voted against an expressed condemnation of homophobia.
Carey said: "If this conference is known by what we have said about homosexuality, then we will have failed."[2] However the resolution was the beginning of an escalating crisis of unity within the Anglican Communion around the question of human sexuality. In 1999 Carey was one of four English bishops who expressly declined to sign the Cambridge Accord, an attempt to find agreement on affirming certain human rights of homosexuals, notwithstanding differences within the church on the morality of homosexual behaviour.[3] In an interview with Sir David Frost in 2002 he said: "I don't believe in blessing same-sex relationships because frankly I don't know what I'm blessing."[4]
Since retirement, Carey continued to oppose same-sex marriage and church blessings of same-sex unions.
In April 2010, Carey submitted a witness statement to an appeal court considering the dismissal of a relationship counsellor who had refused to work with homosexuals, in which he suggested that intervention by senior clerics, including himself, was "indicative of a future civil unrest".[5] In the same statement, he suggested that cases engaging religious rights should not be heard by any of the judges who had decided the previous cases, "as they have made clear their lack of knowledge about the Christian faith." His submission was rejected by the Court as "misplaced" and "deeply inimical to the public interest".[6] Andrew Brown, writing in The Guardian, suggested that the effect of the judgment was to say that Carey was "a self-important and alarmist twit who has no idea what he is talking about".[7] The Church Times commented that "One might be forgiven for thinking that Lord Carey of Clifton has generated more column-inches since retiring as Archbishop of Canterbury than he did when in office. His latest foray into the nation's media is more than usually regrettable, as it strikes at the heart of the independence of the judiciary."[8]
In February 2012, speaking at the launch of the Coalition for Marriage, Carey voiced his opposition to the government's proposal to legalise equal marriage, stating that he was "worried and disappointed" and calling the proposal "cultural vandalism".[9]
In October 2012,Carey was criticised for comparing the opponents of equal marriage to persecuted Jews in Nazi Germany.[10]
In June 2013, as Lord Carey of Clifton, he proposed an amendment to the Marriage (Same Sex Couples) Bill to "protect belief in traditional marriage".[11]
OutRage! protest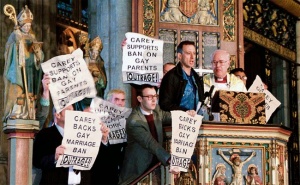 On 12 April 1998,
Peter Tatchell
led an
OutRage!
protest, which disrupted the Carey's Easter sermon. Tatchell mounted the pulpit to denounce what he claimed was Carey's opposition to legal equality for lesbian and gay people. The protest had a lot of media coverage and led to Tatchell's prosecution under the little-used Ecclesiastical Courts Jurisdiction Act 1860 (formerly part of the Brawling Act 1551), which prohibits any form of disruption or protest in a church. Tatchell failed in his attempt to summon Carey as a witness and was convicted. The judge fined him £18.60, which commentators theorized was a wry allusion to the year of the statute used to convict him.
References
References
Partly based on a Wikipedia article.