Donald Maclean
From LGBT Archive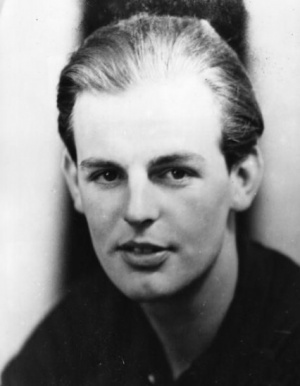 Donald Maclean
(1913–1983) was a British diplomat who became a spy for the Soviet Union. He is considered one of the "Cambridge Five", along with Kim Philby,
Guy Burgess
,
Anthony Blunt
, and possibly, John Cairncross.
He was born in Marylebone, London, the son of the Liberal MP Sir Donald Maclean. He was educated at Gresham's School in Norfolk. He studied Modern Languages at Trinity Hall, Cambridge where he became a Communist. He joined the diplomatic service in 1935. During the second world war and after, he passed important information to the Russians. In 1951 he and Guy Burgess fled to the Soviet Union.
Maclean married an American woman, Melinda Marling, in 1940. She and their three children later joined Maclean in Russia. She subsequently had an affair with Kim Philby.
Maclean is thought to have been bisexual, and while in New York was observed in drunken stupors, prowling for homosexual liaisons.[1]
References
↑ http://spymuseum.com/donald-maclean/. Accessed: 2016-02-08. (Archived by WebCite® at http://www.webcitation.org/6f8khZAE9)